The World Cup is over and Germany won the much coveted trophy. This World Cup will be remembered for its beautiful attacking-style games as well as one of the most crushing defeats in football history: the Host lost 1-7 to Germany in the semi final.
However, the Brazilians do not have to wait for another 4 years in order to have a chance to revenge against Germany. Their stock market has already beaten the German's one. The chart below shows the ratio of the Brazil ETF (EWZ) v.s. Germany ETF (EWG) and we can see that the ratio is in an uptrend.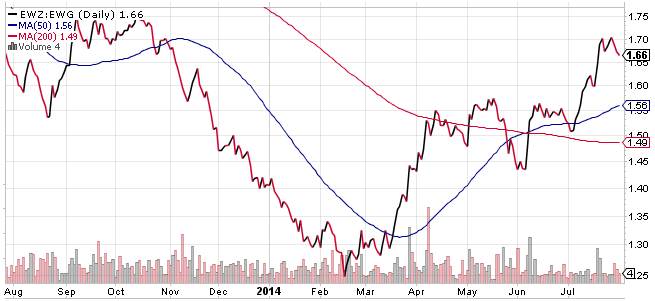 Statistically, the Brazilian market has underperformed over the last 3 years. It lost -29%, while the German market gained 45%. However, EWZ started bouncing at the beginning of this year from an oversold condition.
The bounce is also supported by fundamental factors: Brazil is an exporter of commodities and the uptrend in base metals lends support to its market recovery. Additionally, the upcoming Summer Olympics in Rio in 2016 will give a boost to the local economy.
Germany, on the other hand, is suffering from problems in Europe:   deflation threat, a weak euro, negative interest rates, geopolitical tension in Ukraine and Russia, and a possible bank failure in Portugal, just to name a few. This is a good opportunity for pair traders who want to take advantage of the divergence.